Want your
own Fotopage?
Farah Hannani's blog
mamafami
kak liza
nia azalea
nia azalea's blog
anis ayuni's blog
aisya sofea's blog
damya hanna's blog
Arme Leeds
Bro Jeff
Shafiq@Terengganu
Strozze fp
UmiAisyah
Zarir
Niza & Sofea, London
Anissazira
Zakiyah+Azizi Sheffield
E'sha & Humaira
Mama Aniq
Zai Kulim
Munie Naufal
As mama Ain
Cho Zila
Idaazman
Watie
Miesha mama Ahmadinejad
Nini
Yati & Nazri Notts
Izan & Iko Notts
Hajar & Kamal Bradford
hj.kamal/yati (Lboro)
aiman&ammar
umar hensem (Lboro)
sarahjiha(dinmazni)
wardah (hairiela)
najlah cutie
zunaidi-eli
syazli-ida
fadra-fais
kakngah
wan/yus
Aidilfitri 2005
Aidilfitri 2006
Aidiladha 2006
Aidilfitri 2007
Aidiladha 2007
Aidilfitri 2008
Aidiladha 2008
Aidilfitri 2009
Aidiladha 2009
Spring @ Lufbra
Hari Keluarga MML 2006
Last day@Booth Wood School
Graduation baba
Jom Main Snow
Sambutan Aidiladha MSC 06
Sambutan Aidilfitri MSC 07
Sambutan Aidiladha MSC 08
Sambutan Aidilfitri MSC 09
Bonfire Night 2007
Memancing di Anglesey
The Tall Ships Festival
Snow Jan 2009
Spring 2009
Picnic beramai-ramai (Pt 1)
Picnic beramai-ramai (Pt 2)
Family Day MSC Liverpool
Autumn 2009
Snow Dec 2009
The Heaviest Snow-5 Jan 2010
Sledging Pt 1
Sledging Pt 2
Blue Planet Aquarium
Sefton Park
Port Sunlight, Wirral
Cadbury World, Birmingham
Picnic@Sefton Park
West Midland Safari&Leisure Park
Gulliver's World, Warrington
Southport
Chester, Cheshire
Manchester United Stadium
Manchester Trafford Centre
New Brighton
Gulliver's World, Warrington
Louis Tussaud, Blackpool
Tower Ballroom, Blackpool Tower
Tower Top, Blackpool Tower
Jurassic Walk, Blackpool Tower
Mag. Circus, Blackpool Tower
Cheshire Oak Designer Outlet
Ness Botanic Garden, Wirral
Blue Planet Aquarium, Chester
Heights of Abraham, Matlock Bath
Stratford-upon-Avon
Warwick Castle
Chatsworth House, Derbyshire
Lake District
Southport Flower Show
The Deep Aquarium, Hull
Bangor & Isle of Anglesey
Penrhyn Castle, Bangor
Beaumaris Beach, Anglesey
Beaumaris Castle, Anglesey
Menai Strait & Llanfair PG
Portmeirion Village and Garden
Snowdon Mountain Railway
Caernarfon Castle
Rhyl Children's Village
The Great Orme, Llandudno
Conwy Castle, N.Wales
Day 5 - Disneyland Park
Day 4 - Walt Disney Studio
Day 3 - Paris Visite
Day 2 - Disneyland Park
Day 1 - Disneyland Park
Land's End & Lizard Point
Newquay & Eden Project
Stonehenge, Wiltshire & Bath
Glasgow City Sightseeing
Edinburgh
Falkirk Wheel & Wallace Monument
Snow@Cairngorm Mountain
Ice Skating@Centre for Life
Scottish Borders, Jedburgh
Fun Beach, Aberdeen
Loch Ness, Inverness-shire
Urquhart Castle, Loch Ness
Angel of the North
Newcastle Upon Tyne
Portsmouth
Dinosaur Isle, Sandown
The Model Village, Godshill
The Needles Park, Alum Bay
IOW Pearl
Day 1
Day 2
Day 3
Day 4
Camping@Moelfre, Wales
Camping@Red Wharf Bay, Wales
Camping@Ullswater, Lake District
Fruits picking Sept 2006
Fruits Picking July 2007
Stoberi Picking July 2008
Apple Picking August 2008
Petik Strawberi May 2009
Petik Ceri & Plum August 2009
Liverpool 800th Party
2007 Annual Awards Night
2008 Annual Awards Night
2009 Annual Awards Night
Key Stage 2 Performance 2007
Key Stage 1 Nativity Play (2007)
Nursery School Open Day
Nursery Assembly
Nina da pirate girl
Nina da ladybird
Nina mula sekolah
Children's Art Exhibition
World's Book Day
Nursery Orientation Day
Year 4L Class Assembly Performan
Year 2T Performance
Danial's 7th birthday
Sports Day 2008
2005-2006 School Report
2007-2008 School Report
Monalisa by Danial
Key Stage 1 Performance (2008)
Farah's Cheerleading Performance
Reception Assembly
Farah's 10th bday
Nina's 5th bday
Nina's 6th bday
Mee Bandung
Chapati Cicah Dalca
Juadah Ramadhan 1428H
Apam Pisang Kukus
Muffin Coklat Kukus
Laksa & Asam Pedas Ikan Kembung
Nasi Beriyani Ayam
Murtabak
Steambot
Lasagne
Juadah Ramadhan 1430H
Khairina FotoPage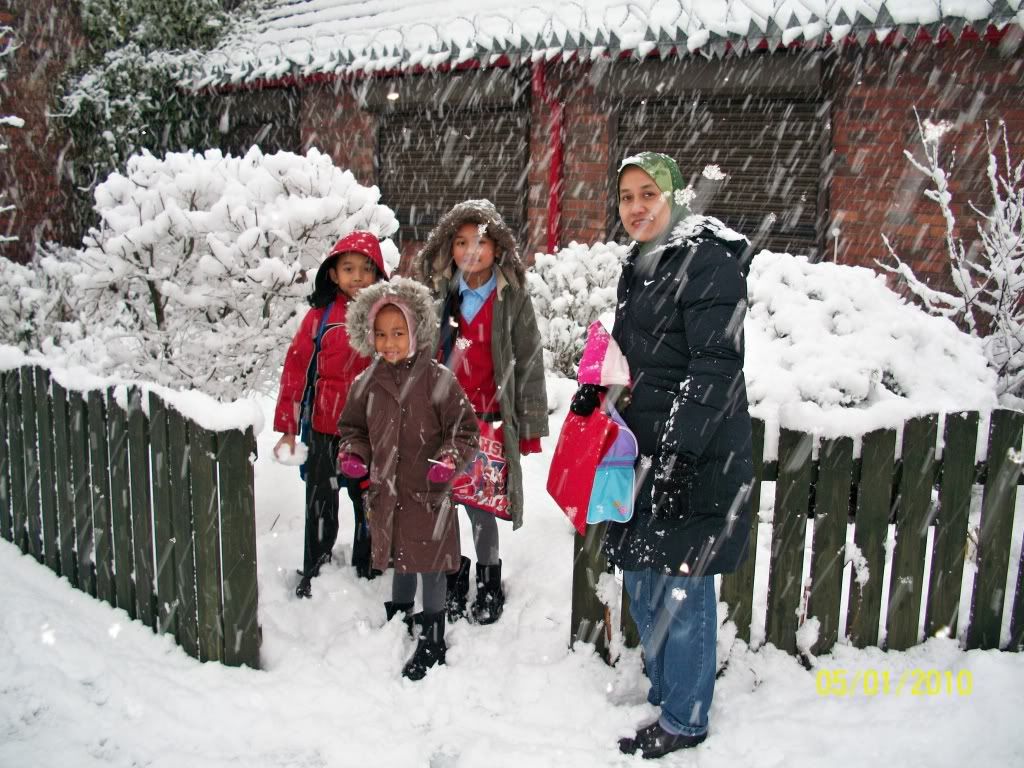 By: Faiz Rahman
[Recommend this Fotopage] | [Share this Fotopage]

View complete fotopage
Wednesday, 28-Nov-2007 23:11
Email | Share | Bookmark
Muffin coklat kukus


Hari ni mama buat muffin coklat kukus, ikut resepi sapa lagi kalu bukan resepi cikgu masakan mama ie kak Hanieliza.

Sebenarnya nina nangis pagi2 buta mintak mama buat kek kukus mocha yg mama pernah buat sebelum ni. Bila tengok ada bahan yg tak cukup, so mama tukar la try buat muffin pulak. Ni 1st time buat muffin la kiranya ni.

Jadi ptg td anak2 makan muffin la sbg minum ptg (bukan ptg, minum malam sbb kul 4 dah maghrib, dah gelappp)

Resepi kat bawah ni mama copy & paste dari kak Liza fp khas utk ibu SarahJiha yg mengidam nak makan muffin ni. Kalau dekat memang mama buatkan je utk ibu SarahJiha, tp apakan daya, kita jauh beribu batu. Nak pos, takut berkulat pulak bila sampai kat ibu SarahJiha nanti . So ibu SarahJiha try buat ye, takpun mintak ayah SarahJiha je buatkan... . Hope you all semua sihat esp ibu SarahJiha. Bila due?

MUFFIN COKLAT KUKUS

Bahan A
2 1/2 cawan tepung superfine
1/2 cawan serbuk koko
2 cawan gula perang
2 s/k soda bikarbonat
1/2 s/k garam

Bahan B
1 cawan susu cair
1 cawan minyak
1 cawan air panas
1 s/k esen vanilla

Cara.
1. Panaskan kukusan dan lapikkan acuan muffin dengan paper-cup
1. Ayakkan tepung, serbuk koko dan soda bikarbonate.
2. Gaulkan semua bahan A supaya sebati.
3. Masukkan bahan B dan gaulkan rata subaya sebati.
4. Masukkan adunan dalam paper-cup dan kukuskan selama 25 minit dengan api yg sederhana.
5. Angkat dan hidangkan.






View complete fotopage